Efter att ha upptäckt att korvkiosken runt hörnet faktiskt serverar tunnbrödrulle med sojakorv återupptäcktes denna delikatess för några veckor sedan efter 20 års uppehåll. I kväll provade jag att bygga en själv också: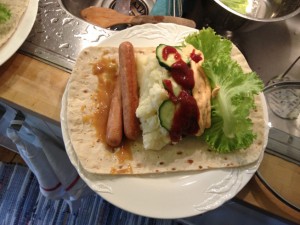 Ingredienserna är:
1 tunnbröd
2 stekta sojakorvar
hemgjort potatismos
sallad
gurka
ketchup
senap
hamburgerdressing <— Do not underestimate the power of hamburgerdressing!
Ni förstår nog själva vad ni ska göra med dessa ingredienser sedan. Om ni är vågade går det även att applicera ett ägg på denna härlighet. Like so: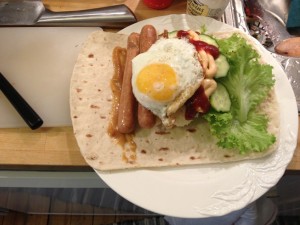 TADA!